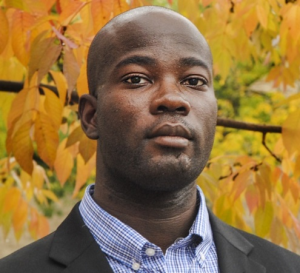 Kweku Opoku-Agyemang is an economist and  Research Fellow at the Center for Effective Global Action, Department of Agricultural and Resource Economics, University of California, Berkeley. He has also been the National Science Foundation Information and Intelligent Systems Unit Postdoctoral Associate within the Human-Computer Interaction & Social Computing Area at Cornell Tech. He is also affiliated with the Represent Research Group and the International Growth Centre of the London School of Economics. 
He holds a a Ph.D. in Development Studies from the University of Wisconsin-Madison, an M.A. in Economics from Ohio University and a B.A. in Economics with Geography and Resource Development from the University of Ghana.
Kweku does research in behavioral economics, development economics, political economics, econometrics, technological change and human-computer interaction, and has developed and taught two highly-rated courses in poverty, technology and development, as well as ethics and methods in social and data science research at UC Berkeley in 2014 and 2015, tied to his research.
Kweku was affiliated with the Berkeley Institute for Data Science; a Visiting Scholar with the Berkeley Emergent Space Tensegrities Lab in the Berkeley Mechanical Engineering department; and a recipient of an inaugural Development Impact Lab Fellowship and Global Poverty and Practice Fellowship; as well as an MEO Fellowship; the William Thiesenhusen Memorial Award;  the Scott Kloeck-Jensen Fellowship; the Raymond J. Penn Fellowship; the A. Eugene Havens Award; an Honorary Fellowship in the University of Wisconsin-Madison's Agricultural and Applied Economics.
He has presented his research at various academic conferences and events held by the Econometric Society, Stanford University, London School of Economics,  UC Berkeley, World Bank, and the White House Social and Behavioral Sciences Team among others.  He also shared his work with 20 Members of Parliament from Columbia, Georgia, Ghana, Indonesia, Jordan, Kenya, Kosovo, Nepal, Peru, Serbia, and Tunisia, co-sponsored by the National Democratic Institute, the Institute for Representative Government and the House Democracy Partnership of the U.S. House of Representatives, with support from the U.S. State Department and the United States Agency for International Development and hosted in 2015.
He served as the Chair for the Canadian Development Economics Study Group session on Credit Markets at the Canadian Economics Association Annual Conference in 2012.  He served as a Co-organizer of the 2016 State of the Science: Science of Scaling Conference on Building Evidence to Advance Anti-Poverty Innovations. Kweku served as a National Service Person to the Government of the Republic of Ghana's Planning, Budgeting, Monitoring and Evaluation (PBME) Department, an education policy unit.
He is a co-author of the book Encountering Poverty: Thinking and Acting in an Unequal World, published by the University of California Press. Kweku's research has been covered by media outlets such as The Economist, The Discovery Channel, and The Huffington Post, and others.